Welcome to Stock & Broth!
At Stock & Broth, we are on a mission to promote healing and healthy living one bowl of soup at a time. Heal and seal your gut, reduce inflammation, control blood sugar, balance hormones, cleanse and detoxify your organs with bone broth! 
**SAULT CUSTOMERS- DELIVERY IS TUESDAYS AND FRIDAYS. PICK UP NOW AVAILABLE AT SELECTED TIMES AT 1510 WELLINGTON E.
**SUDBURY CUSTOMERS -ORDER FOR DELIVERY FROM AMICI'S WITH THE LINK BELOW -
Amici Food Co website - Click Here
For a list of all retailers and where to purchase our Soups, Broths, and/or challenges, scroll to the bottom of the page!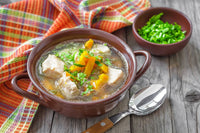 We make bone broth and healing soups made with bone broth.
NO GLUTEN - NO SUGAR - NO GRAIN - NO DAIRY
HEALING SOUPS MADE WITH BONE BROTH
FAQ
1. If you would like to purchase Bone Broth or Soup from our retail partners, please see below. 
For residents in Sault Ste Marie:
Order right here on our website, with delivery every Tuesday and Friday. 
The Country Way
Mill Market SSM (Saturday 9am-2pm)
Trading Post 
Mane St Cafe
Body Vive Integrative Therapies 
Airways General Store
Fit Bodies Fit Minds
Pet Broth available at Foremost Pets 
Located in Blind River -
Maple Acres Farms
705-297-2585
Located in Massey -
The Nature Nook
For residents in Sudbury - 
Paris Natural Foods
Amici's on Barrydowne pick up or
order for delivery at
https://www.amicifoodco.com/brands/stock-broth/ 
Round2Fitness Pick up only, order at
https://www.myroundtwo.com/s/search?q=Stock%20and%20Broth
please call first for pickup times / arrangements at
(705)-690-6402
Delivery and pick up at:
P.L Bargain Deals
2008 Lasalle Blvd. 705-822-6828
2. I am a retailer interested in wholesale pricing.
We would love to help support your business! Email us at stockandbroth@gmail.com